About us
Welcome to Friends Furever Mobile Pet Salon. We are a small business, owned and operated by Stephanie and Samuel Zag. We started Friends Furever Mobile Pet Salon with both the client and pet in mind. What sets us apart from the rest is our certification, professional experience, and knowledge of what is most important to our clients. With today's everchanging environment, we understand the need to keep your furever friend safe, healthy and happy. Our salon is sanitized to ensure the best environment for your pet, following social distancing recommendations fron the CDC. We use state of the art equipment in our mobile pet salon, including a table that lowers to the floor for big dogs, a walk in stailnless steel tub, and a Prima Bathing System for that pampered spa experience. We do not recirculate bath water or any form of dirty water.
Friends Furever Mobile Pet Salon strives to make the grooming experience convenient and enjoyable for both you and your pet. there's no need to leave your house twice a day. We come to you. There are no full kennels, which allows us to pamper your pet with some interuption free one on one time, resulting in a less stressed pet.
Meet the Team

Stephanie Zag, Pet Stylist
Your Pet Stylist, Stephanie Zag, has over 15 years experience in the grooming field. She started out volunteering at Franklin County Animal Shelter, and working at East Columbus Veterinary Hospital, graduated from Columbus State Community College in 2002 earning her associate degree in applied science of veterinary technology as a Registered Veterinary Technician, and gained more experience at Ohio State University, and Banfield.
Stephanie later expanded her career by grooming small animals. Taught by two seasoned groomers. She is a member in good standing of the National Dog Groomers Association, received certificates in asian fusion, senior pet care, and AKC Poodle certification, just to name a few. She also attends seminars locally to continue her education and keep on top of the new trends. This is where her love and passion for animals remain. Stephanie also has an artistic ability allowing her to sculpt and style your fur baby skillfully. "Listening is what I do best. I'm always striving to get the right look for your pet, putting my best artistic skills to work. I will never stop learning new trends, or improving my skill level." Stephanie also has two Standard Poodles. They are her pride and joy. Stephanie and her dog Candace participated in conformation events and has been awarded numerous first place, and Best Female in both AKC and UKC shows.
Samuel Zag, Owner/Manager
Samuel Zag, Owner/Manager, Samuel's expert experience in management reflects the heart of Friends Furever Mobile Pet Salon. His exceptional analytical and detail oriented skills are crucial in the entire operation of our business. In Sam's free time, he enjoys watching football and other sports, time with family, and playtime with our fur babies Candace and Carmen.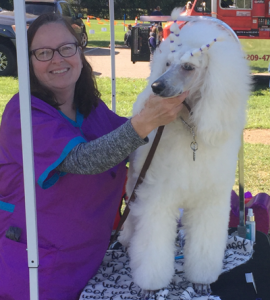 Meet Our Pets

Candace is two years old. She is a standard poodle who participates in conformation events. She has won numerous best of female ribbons, first Place, and best of breed.
Carmen is also a standard poodle. Due to COVID-19 we have not been able to participate in dog shows. However, she travels with me everywhere. I am able to practice new hairstyles on her which keeps my skills at
the top of my game. Hopefully we will enter her in a grooming competition soon.